Singapore continues to perform strongly in 2010 with a record first half expansion. According to advance estimates by the Singapore Ministry of Trade and Industry [MTI] the city states economy has exceeded Q2 of 2010 forecasts: expanding 26% on the previous quarter, with manufacturing output reaching record levels. GDP for the first quarter was revised up to 45.9% its best performance since 1975from the earlier estimate of 38.6%. In the second quarter of 2010, manufacturing output rose 45.5% year-on-year, even more than the first quarter's 38.2% expansion. Manufacturing expanded 58.6% year-on-year in May, the fastest since comparable records began in 1980, breaking April's record of 49.7%. Services grew 11.4% year-on-year in the second quarter, while construction expanded 13.5%.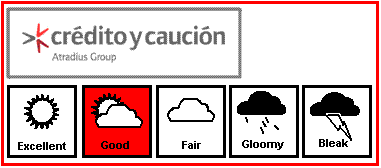 Singapore's non-oil domestic exports rose 28.7% year-on-year in June, up from May's 24.3%. All sectors expanded, with shipments of electronics up 43.9% and pharmaceuticals rebounding 29.8%. This has prompted the government to raise its full-year growth forecast to between 13% and 15% from its May estimate of 7% to 9%. However, with demand in export markets sluggish, MTI has said that the economy's sizzling growth is likely to moderate. Inflation remains relatively modest, and in May the government forecast that consumer prices would rise 2.5% to 3.5% for the full year.
The seasonally adjusted unemployment rate in Singapore reached 2.3% in Q2 of 2010: an improvement from the 3.2% recorded in the same period last year. Consumer confidence in Singapore rose to a near all-time high in Q2 0f 2010 according to the latest Nielsen Global Consumer Confidence Index. Globally, Singaporeans were among the top 10 most confident consumers.
Crédito y Caucións experience of B2B payments in Singapore remained favourable, with no notable increase in notifications of non-payment or of claims. The rate of corporate insolvencies remains low.
Fiscal support for companies will continue
The local banking system remains well placed to support both domestic consumption and economic growth. Monetary and fiscal stimuli have contributed to the stunning turnaround in Singapores economic performance. In December 2009, the Singapore Government extended by a year its financial support for companies, introduced during the global crisis in a bid to keep the economic recovery afloat. This extension of credit support through the Special Risk-Sharing Initiative is effective from February 2010 to the end of January 2011. It will direct up to 8.4 billion Singapore dollars to spur a recovery in commercial lending and ensure that companies in need of finance can access loans. Meanwhile some moves have been made to gradually start scaling back the programmes and reduce economic stimuli.
While Singapore's economic recovery remains on track, there are still some downside risks. Although Asia's economic growth has had a positive impact on Singapore's economy, the continued challenges facing major Western economies, like the United States, may damage it because of Singapores reliance on foreign demand and global trade. For that reason, Crédito y Caución will continue to closely monitor the effect on Singapore of any further downturn in the economic performance of its main trading partners.