According to the Bureau of Economic Analysis, GDP increased 2.4% year-on-year in Q2 of 2010. This moderation in growth compared to the revised rate of 3.7% in Q1 can be attributed primarily to a larger net trade deficit compared to Q1, resulting from increased imports, and a slowdown in private inventory investment.
However, these moderating factors were partially offset by an upturn in residential investment, increased business investment in commercial property and structures, which rose for the first time since Q2 of 2008, increases in state and local government spending and an acceleration of federal government spending.
Despite the slowdown, the USA has now shown growth for four successive quarters. While certainly positive, the rate of growth has so far done little to make a significant and positive dent in unemployment, which is currently around 9.5% - with forecasts of a likely increase to 9.6%.
Consumer sentiment, which reached its lowest point since last November, is still influenced by concerns over this high unemployment rate. With a continuing increase in consumer bankruptcy filings and concerns over consumer debt [it is estimated that in 2010 some 1.6 million consumer bankruptcy petitions may be filed compared to 1.4 million in 2009], consumer spending grew only modestly: by 1.6% in Q2 of 2010 against a revised rate of 1.9% in Q1. To summarise, the recovery continues but weakly, with consumer confidence remaining fragile.
Crédito y Caución expects to see some relaxation in consumer attitudes in Q3 of 2010 thanks to the back to school season which generally stimulates consumer spending. Whats more, there is still a degree of pent-up consumer demand after two years of recession. Realistically, Crédito y Caución feels that the back to school effect and forthcoming holiday season will provide spending stimulus for consumers which should contribute positively to GDP in Q3 and Q4. However, a sustained improvement in the unemployment rate, reduction in concerns over personal debt burdens and recovery in the residential housing market are vital if a prolonged increase in consumer confidence and spending is to be realised.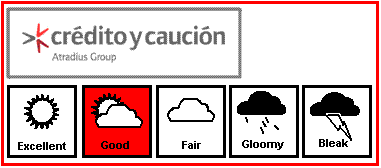 Corporate insolvencies decrease, but the levels remain high
According to the Automated Access to Court Electronics Records [AACER], up to the end of May there have been almost 666,000 bankruptcy filings [personal and business] this year, a 15% increase over 2009. This figure includes around 623,000 private filings, 37,000 business filings and some 6,000 filings to reorganize under Chapter 11. 16% of these filings occurred in California, 7% in Florida and 6% in Michigan. On a per-capita basis, Nevada has the most filings, followed by Georgia and Tennessee.
Relative to business bankruptcy filings, many banks collateral in small businesses is below the norm. One concern, as economic recovery progresses, is that, as collateral values recover, banks will be under more pressure to clean up their balance sheets with the inevitable increased pressure on non-performing borrowers to restructure or liquidate. This is a risk factor that will prevail for the foreseeable future.
However, the recent improvements in economic growth performance and current expectations of an ongoing recovery [in June 2010 our Consensus Economics expected GDP growth of 3.3% for the whole of 2010] imply a slight improvement in corporate insolvencies for the year ahead. In annualized terms the number of corporate insolvencies has levelled off at a 10 year high of 60,000 while the pace of growth has been falling for the last three quarters, suggesting that corporate insolvencies will start to decline over the next few months. Crédito y Caución estimates that, after a 41.2% increase in 2009, corporate insolvencies will decrease 5% year-on-year in 2010.