The Mexican economy continues on its path to recovery. According to the Mexican Statistics Office [INEGI], GDP grew 4.3% in Q1 of 2010, and industrial production rose 7.6% year-on-year in March, but slowed down month-on-month in April by 0.3% when seasonally adjusted. In May, remittances from the US, which are an important source of foreign exchange, rose by 12% year-on-year - to US $ 2,128 million. However, in the first 5 months of 2010, these fell 4.3% [US $ 8,731 million]. Unemployment increased 50% between the end of 2007 and May this year, with a resultant increase of the informal black economy. While both these factors have depressed domestic demand, in June the consumer confidence index improved to 87.5 points nearing its September 2008 level and 7.9% higher than in June 2009.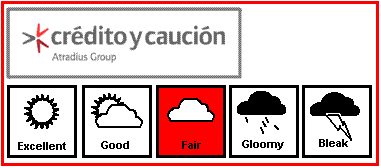 In the north of the country - and especially in Ciudad Juarez, Culiacan and Chihuahua - the drug war and organised crime, that thrive on kidnappings, extortion, gasoline and car theft, piracy, and people trafficking, have increased the level of violence. Insecurity is becoming a real problem for businesses and investors, potentially hampering the recovery, especially in those cities near the US border. Protection rackets have reportedly led to 10,000 businesses leaving Ciudad Juarez, and, with over 200 people - including politicians - killed by their kidnappers in the last two years, we are naturally factoring all of this in when underwriting business risks in the north of the country.
Mixed signals in sector performance
All sectors except beverages and tobacco grew year-on-year in April 2010. However, when compared to April 2008, only printing and paper have grown - 12% and 1% respectively - while all other sectors remain well below their 2008 level. The worst performing sectors are transport equipment, computer equipment and telecommunications and metals [-18%], metallic products [-17%], furniture [-16%], textiles except clothing -15%, and electric equipment [-11%].
After the sharply decline in demand for iron and steel from the construction, automotive and manufacturing industries caused a contraction in the Metal sector, it has rebounded and, between December 2009 and March this year, steel consumption in Mexico was 60% higher than in the same period in 2009.
Mexicos construction output declined 3.3% year-on-year from January to April, but there is optimism for the coming months, especially for housing and infrastructure.
Crédito y Caución remain cautious about the chemical sector, because of the price volatility of raw materials involving foreign currency transactions [US $ / MXN], as many businesses in the sector operate in US$. The number of late payment notifications and credit insurance claims that we receive has stabilized, and we are assessing each buyer individually on the basis of the most recent financial information, unless they are known to belong to a financially strong group.
The transport sector is currently stable, as the economic recovery has increased demand for freight transportation. For 2010, Crédito y Caución expects trade activity to increase 16.2% year-on-year. The US is reconsidering allowing Mexican trucks cross the border to deliver to the US, and this would prove a major boost for the sector.
Automotive production is still overly dependent on US demand. Some OEMs [original equipment manufacturers] are trying to diversify their exports, but this is hampered by Mexicos location. Increased demand from the US has helped the sector, but this demand will probably decrease when stimulus packages expire. Despite some incentives by the Mexican government to increase domestic demand, new car sales have barely risen [3.6% year-on-year in May] and are still 28% lower than in May 2008. An increase of imports of used cars from the US is one of the main obstacles to new car sales.
In machinery, most subsectors have improved their performance since 2009, but this is still below 2008 pre-crisis levels. Potential investors want to see higher and stable levels of production and income, and may also be held back by restricted access to bank loans. Investments in fixed assets did show a positive trend in Q1 of 2010, but this is still far below pre-crisis levels, and, overall, the Crédito y Caucións outlook for the sector remains negative.
In May, the retail sector generally recorded an 8.4% year-on-year sales increase, while same store sales increased 3.1%. The Mothers Day festivities and pre-World Cup purchases account for these positive figures, with higher sales of clothing, electronics and domestic appliances, and the rising consumer confidence index indicates a positive trend in the purchase of consumer durables. However, the outlook for this sector is still negative, although this may balance out by the end of 2010.
The Mexican textile sector may improve once China has cut subsidies to its textile manufacturers. In Q1 of 2010, clothing manufacture registered an increase of 9.8% year-on-year [although still down 2.7% on Q1 of 2008], with leather manufacturers increasing production 16.7% year-on-year. Although these figures signal improvements, the outlook remains negative until we know what Chinese textile companies strategy will be once their subsidies have expired.
Overall, although there are positive signs, the economy is recovering only slowly and is heavily dependent on the US economy, which has not yet rebounded as had been expected. Crédito y Caución is therefore maintaining a conservative underwriting approach to all sectors. We are closely monitoring the effects of the recent hurricane Alex in which hit the Mexican state of Nuevo León, due to that regions economic importance. Both our insured customers and their buyers are providing us with further insight into the effects of the hurricane on the economy.