With its high export dependence, Finland has been among the European countries hardest hit by the credit crisis and the subsequent massive deterioration of world trade in 2009. As Finnish exports fell by 24% year-on-year, its GDP shrank 7.8% last year, according to Statistics Finland. While there are tentative signs of a recovery, such as an increase in new orders in manufacturing, this must be viewed in its proper context, starting as it does from an extreme low point.
Electronics, machinery, and paper, as the main export sectors, suffered severely from the recession. Towards the end of 2009, there were some signs of a rebound, as paper production and metal refining began to recover. Monthly export volumes in the paper industry have been growing steadily in recent months, but are still below their pre-recession level. The recovery lost some ground in March due to a stevedores strike which blocked all of Finlands harbours, but attempts were made to reduce the impact by transferring some production to plants outside Finland.
The outlook for the engineering sector is not yet clear. Companies have started publishing their interim reports for Q1 of 2010, and one important issue in this reporting is the development of order books. Generally speaking, there is no improvement in new orders yet, but, of course, there is variation between companies and across subsectors. However, what is clear is that overall growth of engineering order books is not yet back to pre-recession levels. As a result, once existing orders have been processed and invoiced, there is a risk of a further drop in business volumes, creating a negative chain-reaction throughout the supply chain.
Overall, the construction sector contracted 12% last year. After a steep decline in 2008 and early 2009, residential construction recovered in the second half of the year. The situation is now back to normal, thanks to three drivers. Firstly, renovation-construction performed quite strongly throughout the recession. Secondly, there is clear demand for new housing. And thirdly, the tight lending criteria imposed by banks did not last long and, together with margins, are now back to the low pre-recession levels. As a result, there is actually a risk of a housing bubble in the greater-Helsinki area. Residential construction is expected to increase 2% during 2010 compared to 2009. However, construction of commercial property is still hampered by the fact that both institutional investors and construction companies are wary of starting new projects, even though the vacancy rate has not worsened dramatically. Civil engineering has so far fared quite well, as it is financed by the public sector. Expectations are that the volume of civil engineering will increase 5% in 2010 as the full impact of stimulus packages take effect. The sharp contraction in production in 2009 accounted for higher unemployment, the rate of which increased in the second half of the year. The number of jobs fell 3% in 2009 and in March 2010 the jobless rate reached 9.1%. The Research Institute of the Finnish Economy [ETLA] expects this figure to reach 10.3% by the end of the year, and already unemployment is seriously hampering private consumption.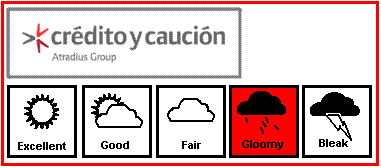 Fewer corporate insolvencies in 2010
According to credit information agency Suomen Asiakastieto Oy, late payments increased 28% year-on-year in 2009. Of the 31,000 companies monitored, 109,000 late-payment incidents were recorded: the highest number for 10 years. But, after a 23% increase in corporate insolvencies in 2009, the number of business failures has decreased 14% in the period January to April 2010 across all sectors except transport, which recorded a 10% increase. One explanation of this is that transport companies have always operated on very small margins and with balance sheets containing low solvency ratios. As a consequence, they do not have adequate reserves to protect them in turbulent times when business volumes decrease. However, for the rest of the year Crédito y Caución expects overall insolvency decrease to continue.
Finnish banks have not been hit by bad debts to the same extent as banks in some other countries. One important factor is the small exposures which the Finnish banks had in the Baltic region. They did tighten their credit policies briefly at the end of 2008 and beginning of 2009, but relaxed them again, for both corporate and household borrowing, during 2009. There are currently no financing-related problems for either corporations or households, and one leading bank announced in April that it has resumed its aim of increasing market share in housing loans.
The IMF forecasts that the Finnish economy will grow 1.5% in 2010, in the expectation that export demand will increase considerably in the second half of the year. For the whole of 2010, ETLA expects exports of goods to increase 7-8% as international demand strengthens to the benefit of all the important trade sectors.