Economically, 2009 was a disastrous year for Mexico, with the highest GDP contraction in almost eight decades [-6.8%]. Nevertheless, 2010 will be a better year, with both the IMF and Economist Intelligence Unit expecting GDP to grow between 3% and 4%, while other optimistic forecasts are for an increase of between 4% and 5.5%, thanks to the expected strong rebound of US economic performance and of domestic consumption and investment.
With Mexicos high dependence on demand from the US, the recent good news about the US economy is a very positive sign, especially for companies located at the US border the so-called maquiladoras many of whom had had to suspend production over the past 18 months. Exports have picked up again since autumn 2009.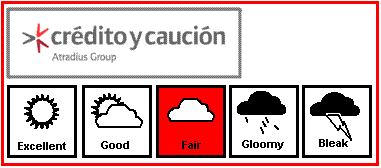 Mexican exports
The Mexican peso has regained some strength against the US-$ making it currently one of the best performing currencies in Latin America. For 2010, the peso to US-$ exchange rate is expected to be MXN 12.8 to the US-$. Even though the Central Bank is selling options for US-$ 600 million, reserves remain high, at US-$ 95.7 billion, which, together with expectations of increased foreign investment and actions by the central bank, is helping to further strengthen the peso.
The nominal interest rate is 4.50% - down from 8.25% in December 2008 - and the central bank has confirmed its intention to keep interest rates low in 2010 to support the recovery. However, future monetary policy will obviously depend mainly on growth and inflation, with the latter expected to increase to more than 5% in 2010. Despite the low key interest rates, banks are still reluctant to lend, restricting financing options for businesses and making loans expensive.
For SMEs in particular, but also for some larger companies, obtaining bank credit or new credit lines, or even renewing existing credit lines, is a struggle. In most cases, strict covenants are added and securities demanded. In general, even large and healthy companies cannot obtain credit for less than 10% interest, and SMEs, if they manage to get credit at all, will probably pay over 20%. Currently, only 23.7% of companies have bank loans to finance their activities [17.2% of SMEs and 46.7% of large corporations].
In the last 10 years, only 360 companies filed for insolvency, of which16 happened in H2 of 2008, 21 in H1 of 2009 and 26 in H2 of 2009. 55% of these filings were made by the companies themselves while 45% were involuntary. One of the reasons why there are so few filings for insolvency is the time it takes for the initial case to become an official bankruptcy or to be rejected: an average of 219 days over seven months. Moreover, business failure is not the problem: the main reason for non-payment in Mexico is protracted default, not insolvency.
Structural reforms necessary for long-term growth
When viewing the short-term recovery in 2010, it needs to be borne in mind that, in large part, this will be the result of inventory replenishment and therefore not sustainable in the long-term. Therefore, Crédito y Caución expects growth to slow in 2011 to around 3%. That said, long-term growth could improve if the Mexican government were to introduce the necessary reforms to make companies more competitive and productive, support internal demand and overcome structural weaknesses of its public finances.
Mexico is highly dependent on the energy sector and oil price development, as oil accounts for about a third of fiscal income. The lack of sufficient reforms in that sector, such as permission for the state-owned oil company to co-operate with private foreign investors for joint exploration, is also causing problems, as reserves are depleting and Mexico does not have the technology to search for oil in deep offshore areas.
Declining employment, increasing interest rates and, especially, the tightening of credit have caused a 42% drop in housing demand. Construction output suffered 18 months of constant decrease up to the end of 2009, with the production value generated by this sector decreasing 5.3% year-on-year. Compared to 2009, expectations for the construction industry for 2010 are positive, with expected growth of 2.3% that would represent 1.2% of the GDP.
Mexicos tax base is very narrow, with limited government revenues. The growth of the black economy since the end of 2008 has made this problem worse. The new VAT, introduced in January, has been very unpopular and is already being reconsidered, as many consumers are turning to the black economy to avoid the tax.
There is also growing insecurity arising from the governments battle against the organised drug mafia. Drug trafficking, kidnapping, robberies and killings have increased in the last two years, especially in the areas bordering the US, and are increasingly hampering the economy.