With GDP growth of 0.4% in Q4 of 2009 , revised upwards from an original estimate of 0.1%, the UK has, technically, emerged from recession. But Britain's return to growth will be fragile, and forecasts for 2010 GDP growth vary between 1.2% and 1.4%. According to the Office for National Statistics manufacturing output rose 0.8% in Q4 of 2009, following its decline of 0.3% in the previous quarter. Construction output fell 0.9% compared to Q3, while services output increased 0.5%, with the strongest growth in the distribution, transport and business services subsectors. Unemployment has levelled off for the time being, and, for the period November 2009 to January 2010, it actually decreased 0.1% from the previous quarter - to 7.8%.
In 2009 there were 19,077 compulsory liquidations and creditors´ voluntary liquidations in England and Wales: a 22.8% increase year-on-year. However, the situation improved as the year progressed, such that, in Q4, there were just 4,566 company insolvencies: a decrease of 1.1% year-on-year and 1.7% compared to Q3.
According to the experience of Crédito y Caución and the Atradius Group, some 74% of UK companies assessed domestic payment behaviour as "good" or better. That said, the UK construction industry is still experiencing a relatively high volume of payment problems and these are expected to continue because of the prevailing economic conditions.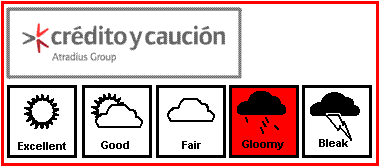 It is clear that the availability of credit has fallen considerably in the UK since the onset of the financial crisis. A number of foreign domiciled lenders have left the UK market, taking out a level of capacity, and UK banks clearly have a reduced appetite for lending: corporate lending figures for December 2009 show that lending by UK banks and building societies fell £4.3 billion. The twelve-month growth rate of the stock of loans fell to its lowest figure since 1999, and information from major UK lenders suggests that January net funding flows also remained weak. The decline in lending since Q2 of 2009 continued to be broad-based across all main sectors.
The value of syndicated loans granted in the second half of 2009 was less than half of that provided in the first half of the year and considerably below that provided between 2003 and 2007. There has been a trend, for larger companies with access to the equity markets, to use different methods of raising funds: notably, by raising cash from new equity to fill the void of reduced lender appetite. Smaller companies, without access to equity markets, have fewer options and, as a result, many face higher costs in servicing debt, with significantly increased bank interest rates and commitment fees.
Budget blues ahead
Economically, the most concerning issue currently is the drop in public finance. In 2009, the UK general government deficit ballooned to £159.2 billion - equivalent to 11.4% of GDP. In the run up to the general elections on May 6th, all major political parties have expressed their recognition that this deficit needs to be reduced.
After the steep rise in 2009, Crédito y Caución expects business insolvencies to decrease 5% year-on-year in 2010. However, there is still uncertainty about the extent of future budget cuts – including a decrease in government initiatives designed to assist companies - after the general election. Construction provides a good example of why the spectre of future spending cuts is so important. Construction sector output was approximately £ 120 billion at its 2007 peak. This is likely to decline to £ 80/85 billion due to the fall in building demand. As government expenditure makes up around 35-40% of spend in the sector, clearly any curtailment here would have a significant impact on the construction sector and overall UK GDP.
Food sector
Overall, the number of insolvencies in the food sector has remained quite low. However, despite its relative resilience, there are sporadic, and surprising, high profile casualties. The strength of the sector and its solid revenue and cash flow streams has attracted private equity and, as such, there are many large players in the market with highly leveraged balance sheets that need to be closely monitored.
Companies selling products into the food industry need to understand their buyers' market position, and recognise the balance of power in the food market. They need to ensure that service standards and deliveries can be met, if they are to build solid relationships with customers. Crédito y Caución expects a continuing relatively stable outlook for the sector. As with other sectors, it will remain highly competitive and, as we have seen over the past 18 months, there may be occasional corporate failures. However, again due to the relative stability of the market, we do not expect to see high volumes of insolvencies.
Steel sector
The steel sector has been severely hit by the recession. At the end of 2008 and early 2009, steel prices fell and demand almost completely dried up. Two of the major end users of steel are automotive and construction, and both sectors fell victim to the recession, with an immediate and serious impact on the steel sector. All areas within the steel sector were affected. At the end of 2008 and beginning of 2009 Crédito y Caución was notified of high levels of non-payment. There was clearly an understanding that companies in the sector would require more time to pay for steel for which demand had fallen so significantly and so quickly. Unfortunately, some players in the sector did not have the financial wherewithal to manage their way through the downturn, but now the sector appears to have settled and the number of non-payment notifications has fallen.
Many companies in the sector have survived the severe downturn through efficient and prudent management. As the market settles at new levels of demand, we anticipate insolvencies and notifications of non-payments to decrease, but remain cautious, as demand from key end markets like construction remains subdued. Steel has many uses, and some areas will remain subdued while others are likely to see some improvement. The automotive industry remains difficult and, with car scrappage schemes coming to an end, there are concerns that 2010 sales will suffer as a result of the scrappage schemes of 2009 and early 2010. Large publicly funded projects are also likely to come under pressure as the UK and many other governments reign in their large budget deficits. Pockets of stable growth include utility and energy markets, where regulatory spending demand continued investment from which steel will benefit. The 2012 London Olympics will also contribute significantly to demand for steel.