Belgium has technically overcome recession, and the National Bank of Belgium (NBB) has revised its estimate for 2009 GDP upwards from -3.5% to -3.1%. Exports still remain under pressure, but the year-on-year deterioration slowed in Q3 of 2009 as exporters benefited from the general economic improvement worldwide.
Nevertheless, economic development remains subdued because of low private consumption. Despite an increase to 8.2% in December 2009 the Belgian unemployment rate is still lower than the eurozone average, but the jobless rate is expected to increase further, reaching between 9% and 10% in 2010.
According to the latest NBB figures, loans provided by residential banks to companies declined further in November 2009, by 2.8% year-on-year. The Belgian banking system is still under pressure, and stress tests on the banks have revealed that they are still vulnerable and may require additional capital. As elsewhere, small and medium-sized companies suffer more than large enterprises from this restricted access to credit. While this severely affects companies´ liquidity and investment, there is no imminent danger of a credit crunch.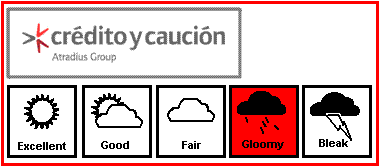 After several consecutive quarters of deterioration, overall payment behaviour improved surprisingly in the last quarter of 2009. This suggests that companies´ application of tighter credit management measures, which Crédito y Caución observed at the end of 2009, is finally taking effect. At the same time, state related bodies have further improved their payment behaviour.
According to our own observations and experience, construction, transport, retail, domestic appliances and ICT improved their payment behaviour during the last quarter of 2009. In contrast, services, engineering, hotel & catering, and timber show a deteriorating trend.
According to the Belgian Statistics Office, 9,420 Belgian companies became insolvent last year, a 10.7% increase on 2008. Those most affected were manufacturing [20.1% increase], construction [16.1%], hotels/restaurants [12.9%] and transport [11.5%]. Hard hit subsectors were wood/timber [200%] and metal manufacturing [50%]. Small companies [of less than 10 employees] were worst affected, with an 11.2% increase.
Corporate insolvencies will increase by 5% in 2010
For the current year, the NBB forecasts output growth of 1%. The increasing unemployment rate will probably have a negative impact on domestic consumption. The government should, in our view, maintain its supporting measures to stabilise the economy, and even increase its support, budget permitting.
In December 2009, the Expected Default Frequency for Belgium remained level for the third month in a row, still indicating elevated default risk. Currently, Crédito y Caución expects corporate insolvencies to increase by 5% this year compared to 2009.
Looking at specific sectors, Crédito y Caución still assess the overall performance of chemicals, food and agriculture to be satisfactory, while construction, metals and transport continue to face problems. If domestic consumption remains weak - or deteriorates - directly related sectors such as retail, ICT and consumer durables may be rapidly and severely affected.