The Australian economy escaped the worst of the global credit crisis, and recovered relatively quickly from a shallow downturn thanks mainly to comprehensive fiscal stimuli and strong demand for commodities from Asia. Prime Minister has promised to get the fiscal accounts back into a small surplus from 2012-13 and the chances of success are good, with the economy projected to grow strongly [3.4% this year and in 2011] keeping tax revenues buoyant.
According to the Australian Bureau of Statistics, GDP growth in Q3 of 2010 slowed to 0.2% on the previous quarter [but still 2.7% year-on-year], as a stronger currency has hurt exports, while higher interest rates and reduced government stimuli have dampened private consumption and the housing market.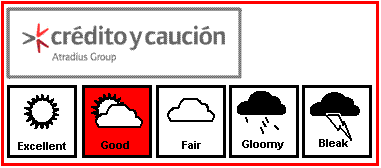 However, employment continues to improve and the unemployment rate is holding steady at around 5.1%. Employment has increased in the professional, scientific and technical services as well as in the mining sector, but in the manufacturing, recreation and arts sectors it remains weak.
Consumer spending has grown a little below trend over the past year. Although surveys report that consumer confidence has been generally high over the last 18 months, consumers are still cautious in their spending. After the big rise in household sector debt over the last 10-15 years, households are now cutting back on debt and spending. This is partly because they realise, after the experience of the credit crisis, that further big increases in debt could leave them vulnerable if their incomes were to fall, and partly because lenders have become more cautious in offering credit.
Business conditions are broadly favourable, although there are considerable variations across industries. While conditions in the mining industry are at their highest since late 2007, those in the construction industry have worsened as the benefits of stimulus-related public building activity fade. Conditions in the tourism industry too have weakened, in part reflecting the appreciation of the AU$.
Business investment is supported by solid internal funding for capital expenditure. However, growth of business loans remains weak, with firms continuing to repay loans while there is little growth in new commercial loan approvals. Conditions are toughest for small businesses, as they are less likely than larger businesses to invest and are also encountering difficulties in accessing finance.
Insolvency level still higher than pre-crisis
According to the Australian Securities and Investment Commission, both the numbers of companies entering external administration and insolvency appointments decreased year-on-year in between January and October 2010: to 6,732 and 10,810 cases respectively [compared to 7,182 and 11,121 cases from January to October 2009]. However, despite positive macroeconomic conditions in Australia, the number of insolvencies is still higher than pre-crisis times. Australian companies continue to suffer from negative cash flow: the result of the cost of meeting new orders on the one hand and delayed customer payments on the other.