How has the construction sector performed so far in 2010?
After several years of driving the US economy to unprecedented buoyancy, distress in the construction and construction materials sectors continues to be a major depressing factor in this post-recessionary period, the severity of which has not been seen since the 1930s. Historically a barometer for the US economy, performance in the construction sector has struggled for the last 5 years and the new housing market has been in freefall since 2008. In 2009, the weakness of construction activity was the single largest contributor [10%] to a 2.4% decline in GDP. As the trend has continued throughout 2010, construction now constitutes just 4.1% of GDP, compared to 15% in 2003.
State, local and federal construction spending has stagnated as a result of substantial budgetary shortfalls nationwide. In the past, non-residential construction activity has followed the residential cycle by 9 to 18 months. This cycle had been quite resilient over the last four years, but continued weak economic metrics are now dampening sector activity significantly. As a consequence, deep distress is also being felt by all building materials producers, distributors and retailers. Residential housing markets did experience some relief in early 2010, thanks to lower mortgage rates and first time buyer incentives, but, with the expiry of those initiatives, markets have stalled.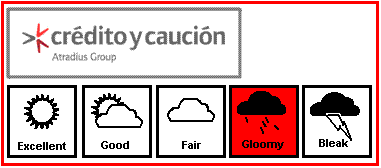 What is the current trend in payment terms, payment defaults and insolvencies?
Two factors are emerging. Firstly, longer payment terms are being offered, and secondly, and not uncommonly, buyers are stretching their payables by an extra 30 days. Longer terms of sale may become standard but Crédito y Caución expects that, as sector conditions improve, payables will return within contractual terms. Crédito y Caución does not anticipate a significant shift in the value or number of insolvencies.
What is Crédito y Caucións short-term outlook for the construction sector?
In commercial and non-residential construction, it is estimated that in 2010 we will see a 13% drop in activity. While federal stimulus money has been slow to trickle down to public construction sectors, infrastructure and highway spend is expected to pick up in 2011 by which time federal funds should begin to flow more freely. For residential construction, no relief is expected until the latter part of 2011 and no return to historical patterns of activity before 2013.
While certainly distressed, building materials sectors are expected to remain relatively stable in the short-term. Recent trends in the retail building supply sector are promising, as consumers address long delayed home maintenance, repair and renovation.
Key issues for construction and related sectors are, and will continue to be, the ongoing home mortgage/foreclosure debacle; tight credit markets; raw material and energy costs; interest rates; consumer confidence; federal stimulus spending; moderating capital spend; pervasive unemployment; and overcapacity.
What is the Crédito y Caución approach to the sector?
Given continuing stresses in the construction and construction materials industries, underwriters must exercise extraordinary discernment and discretion when reviewing buyers in these sectors. Without favourable trade, financial statements or other credit/financial insight, coverage will not be granted on buyers in these sectors. The strategy of the Atradius Group is to review any new business opportunity very carefully and apply whatever conditions are necessary to limit the risk to our clients.