While the Mexican economy has technically been out of the recession since the first quarter of 2010, the economy has still to fully recover, and a rebound to pre-crisis levels may take one or two years yet. According to the Mexican Statistics Office [INEGI], in Q2 of 2010 GDP grew 3.2% on the previous quarter. Overall, GDP growth for this year is expected to be between 4.6% and 5%.
Production capacity remains low, due to lack of structural changes, weakness of long-term growth factors such as savings, investments and productivity, and technical changes. Overall, Foreign direct investment [FDI] represents 17% of Mexicos GDP. FDI increased 28% in the first half of 2010, after a 42% decline in 2009, but this is because a single operation. On 1st October, Mexico entered the World Government Bond Index, which should increase investment in financial products.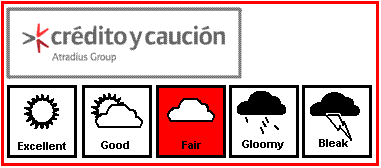 Unemployment is still high and the informal economy has grown since the beginning of the crisis. There has also been an increase in registered sole proprietorships, often set up by people who have lost their jobs. But the fact that many of these firms have been created more out of desperation than market demand can only result in their subsequent failure.
The number of overdue accounts has improved, decreasing from 4% in June 2009 to 3% in August 2010. Late credit card payments also decreased to 5.4% in August, while late repayments to banks declined to 2.6%. However, banks are still reluctant to lend to companies, and 52% of exporters still have no access to bank loans.
Currency volatility affects both Mexican importers and exporters. The peso suffered significant devaluation in September 2008 by about 25% - triggering a wave of defaults in 2009 by those companies with US$ denominated debt and/or trade credit obligations. However, the peso has regained strength since then, mainly due to the sluggishness of the US economy, and is now at its strongest level in three months. While, at the beginning of this year, the exchange rate was forecast to close between MXN 13.1/US$ and MXN 13.5/US$ at year end, it is now expected to close at MXN 12.2/US$. That said, private companies external debt in the first half of this year is at an all-time high, at US$ 68,106 million, and this needs to be closely monitored as it could lead to repayment problems if the peso were to depreciate again in the future.
In recent months, the security situation has worsened, with killings of mayors, police and drug cartel members. Add to that the rise in kidnappings, and the fact that the violence is spreading from northern areas like Nuevo León to more central areas such as Michoacán, and even to Monterey and Mexico City itself, and it is understandable that people tend to stay at home rather than go out for dinner, to bars and clubs, or to shop. But of course this has had a negative effect on the economy: for example, in the city of Tijuana near the US border 81% of companies report lower sales. Violence and insecurity are also forcing companies to close down, while tourism, already hit by lower discretionary spending, is now also suffering as a result of this drug related crime.
Growth to slow down in 2011
Prospects for the Mexican economy are less positive than they were three months ago. The slowdown of the US recovery is affecting Mexico in many ways: lower production, lower revenues from tourism and workers´ remittances all important sources of foreign exchange. However, Crédito y Caución is expecting an increase in business for companies that depend on government purchases in the coming months, as budgets need to be used before year-end. Banco de Mexicos 2011 GDP projections have been revised downward for the 4th time this year - to 3.5% - due to lower global economic growth. The IMF currently expects a slightly better result, at 3.9%. What is clear is that the economic pace will depend on recovery of the still depressed domestic demand and US economic performance.