Italy continues on the path to recovery, albeit slowly, as GDP grew in Q2 of 2010 - by 0.4% on the previous quarter and 1.1% year-on-year. The largest contribution came from exports which, according to the Italian Statistics Office ISTAT, increased 12.6% year-on-year between January and June [a 12.2% increase in exports to EU countries and 13.2% to non-EU countries]. Exports to Italys main trading partners Germany and France increased 14% and 13.2% respectively, but the biggest boost came from outside the EU, with well above average increases to Turkey [54%], South America [28%], China [23%] and India [23.3%]. In terms of products, in addition to the traditionally strong exports like food and furniture, electromechanical articles [wires, solar panels etc] performed well.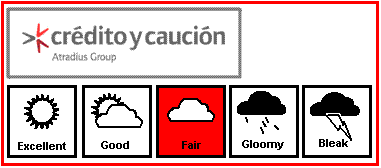 Industrial production, turnover and new orders all posted positive results in the first half of the year. According to ISTAT, manufacturing production [excluding construction and calendar adjusted] recorded a 2.2% increase in Q2 on the previous quarter and 5.5% year-on-year. Industrial orders rose 13.2% year-on-year between January and May. However, despite this industrial recovery, investment in machinery and equipment remains modest, suppressed by uncertainty about future demand and by continuing spare capacity.
Internal demand is still weak, with household consumption sluggish. Unemployment remains high - at 8.5% in June 2010 - and, after a recovery during late 2009, consumer confidence has weakened again since the beginning of this year. Retail trade decreased 0.1% between March and May on the previous three months [non-food: -0.3%]. Several domestic-oriented sectors like wholesale, hotels, construction and construction materials, metals, textiles and footwear show higher overdues.
After a massive 46.2% increase in 2009, Crédito y Caución expects corporate insolvencies to rise further this year, but an improvement, albeit small, is expected in 2011.
The Bank of Italy expects GDP to grow 1% in 2010 and 2011, and the overall perspective on the Italian economy is moderately positive for the coming 12 months, as export demand is likely to continue to drive the recovery. Nevertheless, there are still potential pitfalls in the coming months, as the phasing out of stimulus measures and the effects of fiscal consolidation will probably slow down the rebound. In the case of raw material prices and stock exchange performance, it is hard to predict if this signals a further slowdown or will develop into a new consolidation phase.
Either way, many sectors will face a difficult second half of 2010, and so a prudent approach is still recommended. The spread on the Italian bonds in the market is still under control and further turmoil of sovereign debt in the eurozone hasnt been forecast. However, the currently unclear political situation in Italy could also have an impact in the months to come.